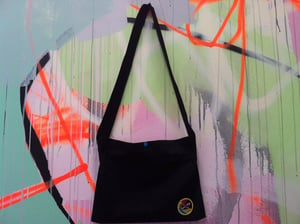 $

25.00
I set aside 10 Patches to team up with Jeff & Dustin of Alter Manufacturing. Their craft manufactured soft goods are made right around the corner from my home here in Atlanta, Georgia and they have a 100% USA made factory line. These guys put out some of the most practical and pared down bags and accessories bar none.
Ultimately these musette bags came out amazing & really are ideal in size, texture & intended application. This will become a daily bag for you. And the contingency storage waiting in your jersey pocket.
Pictured: bag #6 with The hsuper patch #44 (chalk number added on interior). Sewn in ATL of domestic material. Other photo is my bud Stafford sporting a bag rolling over Freedom Parkway. More photos here.